November 26, 2018 12:00 AM
TechForce seeks nominations for 'Techs Rock' rewards program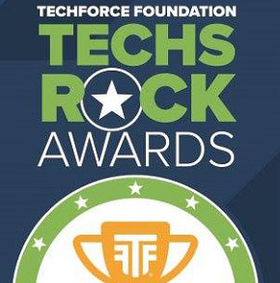 SCOTTSDALE, Ariz. — TechForce Foundation, a non-profit organization promoting careers in the transportation industry, is looking to recognize working technicians who mentor and inspire the next generation of technicians under a new rewards program called "Techs Rock."
"It's inspiring to witness so many outstanding transportation techs from across the country making such huge impacts on both their communities and their organizations," TechForce Executive Director Jennifer Maher said.
"These talented men and women are pioneers of the modern transportation era who are showing us firsthand that a career as a tech is no longer simply about wrenches and oil, but rather advanced equipment and technology requiring sophisticated, high-tech training. And they're helping future techs think bigger and act bolder."
The TechForce is accepting submissions through Nov. 30 for five Techs Rock awards categories:
Outstanding Mentor — for those providing support and guidance to future techs;
Rookie of the Year — for up-and coming tech professionals with under two years of experience;
Die Hard Award — for industry veterans who "live, breathe, sleep and thrive" in their career;
Barrier Buster Award — for those showing passion in overcoming obstacles to succeed; and
Pay it Forward Award — for those being a community advocate and inspiring the next generation of transportation technicians.
Category winners, selected by a panel of five industry judges, will be announced on Dec. 11 and each will receive a prize tool voucher valued at $1,000, sponsored by Snap-on Inc.
The inaugural 2018 Techs Rock Awards judging panel includes: Jeff Allen, CEO and founder, Flat 12 Gallery and co-host of Skidmarks Show Podcast; Steve Johnson, NHRA Pro Stock Motorcycle champion; Julia Landauer, NASCAR driver, Julia Landauer Racing; Bogi Lateiner, CEO and master mechanic, Bogi's Garage and 180 Degrees Automotive; and Greg Rintala, national sales manager, Snap-on.
A one-week public online vote then will determine one Grand Prize Winner who will receive roundtrip airfare and hotel accommodations in Scottsdale, Ariz., for Auto Week 2019, where they'll be honored at the annual TechForce Foundation Leadership Summit.
To learn more about the 2018 Techs Rock Awards, visit TechForceFoundation.org/TechsRock.
Do you have an opinion about this story? Do you have some thoughts you'd like to share with our readers? Tire Business would love to hear from you. Email your letter to Editor Don Detore at [email protected].