VIP Tires & Service opens 19th New Hampshire location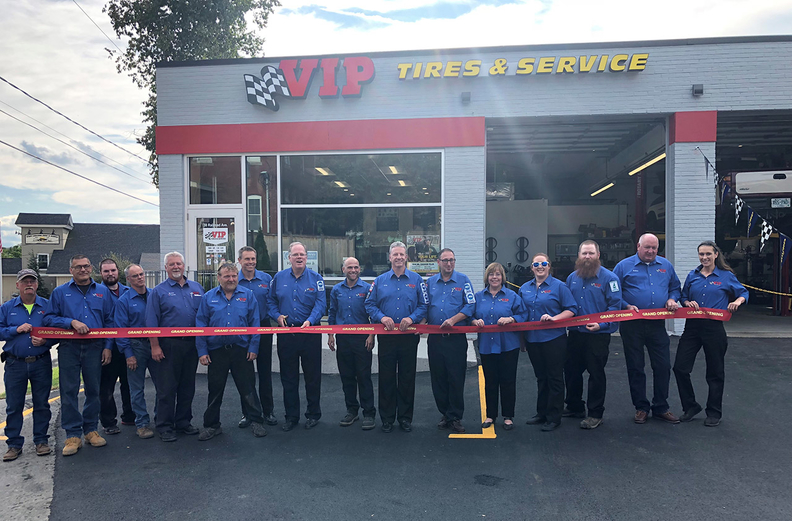 WEST LEBANON, N.H. — New England-based VIP Tires & Service has opened its 57th retail location, a full-service automotive repair, maintenance and tire shop in West Lebanon.
The new VIP store—the company's 19th in New Hampshire—is located at a former City Tire facility, and the company said it has signed an initial 10-year lease with renewal options. VIP said it has invested more than $500,000 renovating the facility and has hired seven technicians and a store manager.
The 3,200-sq.-ft. facility has six bays as well as storage for more than 1,500 tires. The new store opened on Aug. 18, while the official ribbon-cutting ceremony was held on Aug. 23.
Among the improvements made in the facility were:
Raising the showroom ceiling to 12 feet from 7 feet;
Adding windows between the showroom and bays so customers can watch their vehicles while are being serviced;
New lifts, as well as state-of-the-art alignment and tire equipment;
Creating a 30-foot tire display wall so customers can make selections more easily;
Installing an ADA-compliant entrance ramp for greater customer accessibility;
Updating existing restrooms and building a new employee restroom;
Installing new heating systems; and
Refurbishing the exterior with all an all-glass front, paint and signage.
Tim Winkeler, president and chief operating officer for VIP, said the location is suited to servicing all communities of the Upper Valley.
"The Upper Valley of New Hampshire and Vermont is a strong and growing market, and one that we've wanted to have a presence in for a long time," Mr. Winkeler said.
"With our 93 years in business and our dedication to service excellence, it's our goal to become the local community's trusted hometown provider for everything automotive."
VIP is hosting a grand-opening celebration this weekend, while also launching the "Oil Changes for Education" initiative.
From August until the end of October, VIP is offering $10 oil changes to all customers at the new stores, with 100 percent of the proceeds donated to children in the Lebanon and Hartford School Districts.
"When we enter a new market, we want to become active in the local community — it's part of our company culture," Mr. Winkeler said. "While we were working on the new store, an article crossed my desk that detailed the enormous financial needs of the local schools.
"My team reached out to the superintendents of both the Lebanon and Hartford School Districts and asked how we could get involved. Together, we came up with idea of 'Oil Changes for Education.' Our goal is to raise funds to support student curriculum and activity needs at the seven schools. It's a win-win for everyone because no one does $10 oil changes anymore, and 100 percent of the proceeds will benefit so many children in the local community."
Family-owned VIP, led by CEO and owner John Quick, now has 35 locations in Maine and three locations in Massachusetts, in addition to the New Hampshire locations.
VIP is the fourth-largest retail tire dealership in New England, and is among the 20 largest in the U.S., based on number of outlets, according to Tire Business' annual rankings.
Do you have an opinion about this story? Do you have some thoughts you'd like to share with our readers? Tire Business would love to hear from you. Email your letter to Editor Don Detore at [email protected].