ASA announces instructors for annual meeting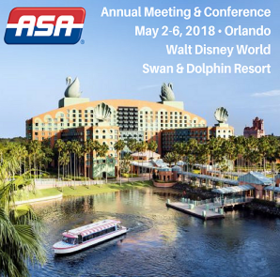 ORLANDO, Fla. — The Automotive Service Association (ASA) has announced its lineup of industry experts who will lead the instructional sections of its annual business meeting in Orlando May 2-4.
There will be two half-day training sessions taking place simultaneously from 2 to 5 p.m. on May 3, and two more running simultaneously from 1 to 4 p.m. on May 4, the ASA said. The classes are approved by the Automotive Management Institute (AMi), and students can earn six credits per class, it said.
The May 3 sessions are:
"New for 2018: 6 Tips for Making Better Decisions," by Maylan Newton, CEO of Educational Seminars Institute, which is designed to help shop owners and their staffs the techniques of developing better decision-making skills.
"Embracing Change: Take the Fear Out of Change and Establish a Mindset of Improvement," by Richard Flint, chairman and CEO of Flint inc., which will explore the four-phase timetable for a shop's failure if it is unwilling to embrace change.
On May 4, the afternoon sessions will be:
"Elevating Service Excellence with Productivity Mathematics," by Bob Greenwood, President and CEO of Automotive Aftermarket E-Learning Centre Ltd., in which attendees will learn to measure the shop as a team and lead to solution to failing practices.
"Takeaway Strategies for Implementing Effective Leadership," by Bill Haas, owner of Haas Performance Consulting L.L.C., in which shop owners will learn how to help their team members to excel by creating a culture of empowerment.
ASA members have until April 2 to get the $99 advanced registration fee, according to the ASA. The registration fee includes the Thursday continental breakfast, the open board of directors meeting, the ASA luncheon, the training sessions, the welcome cocktail reception, the Celebration of Excellence, the AMi Graduation and the Epcot Center Dessert Reception & IllumiNations Fireworks Display.
The annual business meeting is a members-only event, the association said. To join the ASA, visit ASAshop.org or call 817-514-2900, ext. 2.
To register for the conference or learn more about the meeting, go to asashop.org/annualmeeting.
Do you have an opinion about this story? Do you have some thoughts you'd like to share with our readers? Tire Business would love to hear from you. Email your letter to Editor Don Detore at [email protected].