December 11, 2017 12:00 AM
Ventas de vehículos híbridos y eléctricos de México muestran grandes ganancias

Por Stephen Downer, reportero especial de Tire Business
CIUDAD DE MÉXICO — Las ventas al público de vehículos eléctricos e híbridos en México en los primeros ocho meses de este año han mostrado ganancias robustas en comparación con el mismo periodo del año pasado.
En conjunto, sus ventas suman un total de 6,473, lo que corresponde a un aumento de 40.2 por ciento en comparación con el total de 4,617 vendidos en el periodo de enero-agosto de 2016, según la asociación de la industria automotriz del país.
La Asociación Mexicana de la Industria Automotriz (AMIA) dijo que el 43.2 por ciento de las ventas fueron en la Ciudad de México, seguidas por el Estado de México (14 por ciento), Jalisco (7.1 por ciento) y Nuevo León (6.1 por ciento).
La producción de vehículos ligeros de enero a octubre en México sumó un total sin precedentes de 3,194,872 unidades, un aumento del 10 por ciento sobre los 2,904,971 ensamblados en los primeros 10 meses de 2016, según la AMIA.
La exportación de los mismos vehículos en los primeros 10 meses aumentó un 11.7 por ciento en comparación con el año anterior, sumando un récord total de 2,575,361 en comparación con los 2,306,293 exportados en 2016, según la AMIA. Estados Unidos representó el 76.1 por ciento de las exportaciones al importar 1,961,097 de unidades desde México. Eso es un aumento de 10.4 por ciento en comparación con el mismo periodo de 2016 cuando el país importó 1,775,955.
La AMIA dijo que las importaciones de México representaron el 13.9 por ciento del nuevo mercado de vehículos ligeros en Estados Unidos durante octubre.
Según el banco central de México (Banco de México), el producto interno bruto del país crecerá un 2.10 por ciento en 2017 y 2.25 por ciento en 2018. Los analistas esperan que la inflación termine en el 2017 en un 6.25 por ciento y caiga a 3.85 por ciento en 2018.
Photo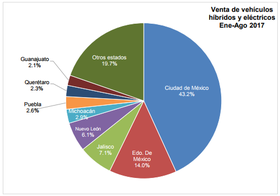 Los factores que podrían afectar el crecimiento económico, según los expertos, incluyen:
La incertidumbre política interna, ya que habrá elección presidencial el 1 de julio de 2018;

La caída de la producción de petróleo crudo; y

El crimen violento en diferentes partes del país.
Stephen Downer es un escritor independiente ubicado en México que cubre ese país y Latinoamérica para Tire Business y su boletín informativo electrónico de Latinoamérica.
Do you have an opinion about this story? Do you have some thoughts you'd like to share with our readers? Tire Business would love to hear from you. Email your letter to Editor Don Detore at [email protected].